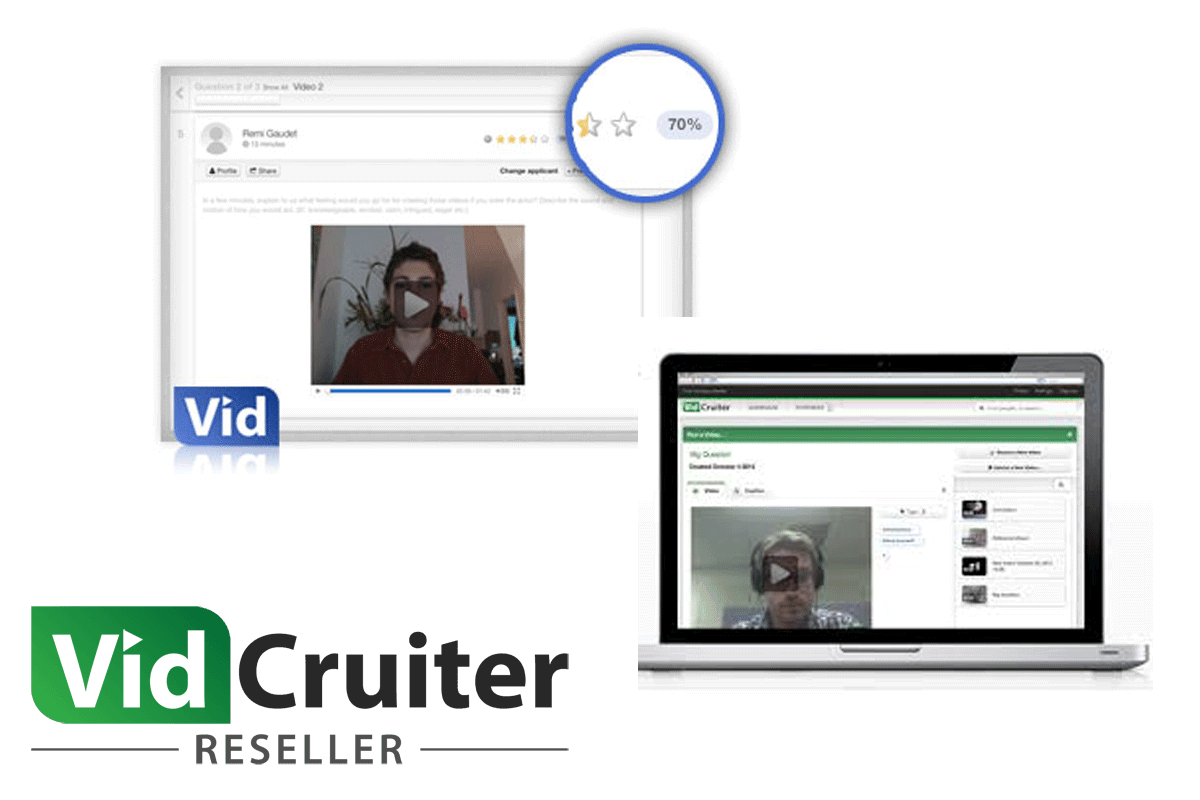 We are pleased to be an authorised reseller for VidCruiter Online Video Recruiting System. The system comes with an Applicant Tracking System or can be integrated into current ATS technology and enables clients worldwide to take the hassle and stress out of interviewing whilst saving substantial time in the hiring process.
No-obligation LIVE Online Demo
Video Interviewing for Recruitment
It's all about interviewing your job applicants by video. However, behind the scenes, a lot more than this is going on.  The system is a complete applicant tracking system (ATS) that uses your custom rules to automatically take your job applicants through your own stages of the hiring process, part of which will include an asynchronous Video Interview. The system is able to accommodate your current recruitment workflow and whilst it does include an ATS – it can also easily integrate with your current ATS.
Asynchronous online interview?!
This simply means that the interview is not live. The job applicant will be logged into our system and will be invited to respond by video camera to questions that you wish to have answered. As the client, you have the option of typing out text-based questions for candidates to respond to, or you may choose to record your questions via a video camera too. You and your colleagues then view and rate the candidate's video responses at a convenient time. Time zones and travel are no longer an issue for recruiters or applicants!
Interview with Skype or YouTube etc?
Skype and similar software is for 2-way video conversations – which our system can also handle. YouTube and similar sites are for uploading content that is to be shared with others, it is not for uploading of confidential job application videos. Obviously, these systems do not come with their own ATS and workflow management, they lack rating systems and one can only imagine the difficulty of handling more than a few interviewees within these systems and others like them.
Benefits of Online Asynchronous Video Interviewing for Recruitment
Save time.
Save money.
Reduce the time to hire.
Improve productivity of current recruiters.
Assess more applicants in less time.
No need for applicants or interviewers to travel.
Time zones no longer an issue – interview candidates anytime.
Interviews can be rated by interviewers at their convenience from anywhere.
Stop watching an interviewee who you know will not fit the job (difficult to do face-to-face!).
Never forget to ask important questions!
Playback the recorded interview as often as you wish.
You can afford to open up your applicant pool due to the above time savings and other advantages!
The interview is standardized for all applicants – this makes it more reliable and more valid and hence, more fair.
Unlike our competitors, a state-of-the-art applicant tracking system included.
Better rating systems than our competitors – our Consultant Psychologist director is a Scientific Advisor to VidCruiter!
Candidates view your organization more positively – great for your image and for attracting the best in the future!
In this detailed breakdown, you can clearly see where time and cost is being saved! VidCruiter takes over a substantial part of the hiring/recruitment process. You simply program your current process into the workflow and you can spend time doing other important tasks whilst the VidCruiter system takes care of the rest! If you are not tech savvy, don't worry! We will help you with your initial setup for no additional fee. Thereafter, our team is on hand with our award-winning support. If you need professional assistance, for example in asking the right questions or designing competency frameworks or even in integrating video interviewing into psychometric testing and other assessment processes, our Business Psychologists are here to consult!
The Entire VidHiring System

Live Video Interviewing
Live Online Video Interviewing
Use at any stage in the process
Interview can be recorded
You and your colleagues rate and system documents in ATS
Saves time and no issues with time zones
Automated Referencing

Request references in any format (video, audio, text)
System sends requests and follows-up
You and your colleagues rate references
ATS documents with all other applicant records
Saves time and enhances selection process
Audio Interviewing

Particularly useful where you need applicants with clear voices
System automatically screens voice quality and pronunciation
Applicants call a local number in their city or yours
Asynchronous – no time zone problems
Talk To Us
We'd love to hear from you, please use the Live Help button on the left side of the page.
Alternatively, please send us an email / telephone us by clicking the link below for details.
Contact Us