British Psychological Society Psychometrics Accreditation
BPS Level 1 & 2
EXTENDED SUPPORTED MODE ONLINE PSYCHOMETRIC TRAINING COURSE for all professionals involved in assessing people at work.
Next Intake is 2024
Leads to an internationally recognised qualification in Psychometric Testing at Work and entry in the British Psychological Society's RQTU (Register of Qualification in Psychometric Testing). Places strictly limited to ensure effective learning & support.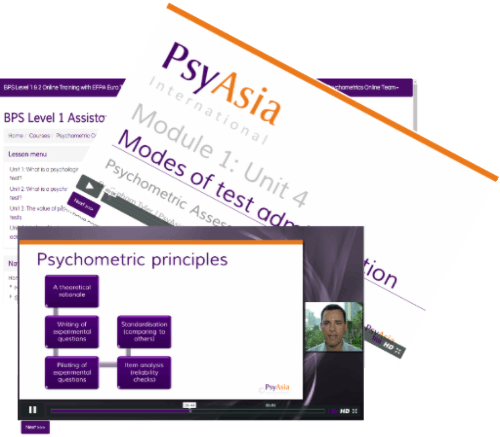 What is Extended Supported Mode BPS Psychometrics Accreditation?
We have been facilitating the BPS Level 1 & 2 Test User Course (formerly BPS Level A and B) since the late 1990s and have offered online training for this BPS Psychometrics Accreditation since 2008.
Our Extended Supported Mode offers "drip" training over approximately 5 months, with support from other students in your intake, and via weekly online live sessions with the multi-award-winning, Registered Psychologist Course Facilitator.
Hours of professionally recorded videos, with production quality sound, result in an engaging learning experience. Well thought-out quizzes, enable students to receive instant feedback, whilst discussion forums, where sharing with other students takes place, allow students to question and discuss their learning. The learning experience culminates each week in a 2-hour psychologist-led Live Webinar where we go through forum posts and student questions, and practice a number of the taught components in small virtual breakout rooms.
This mode of learning is best for those students who wish to learn, over a period of time, from the comfort of their office or home (or even during their commute!) and who prefer to feel part of a group of others learning at the same time, whilst receiving regular support from the course director. It also assists those who have difficulty achieving outcomes from online learning when regular milestone deadlines are not set.
Alternative Modes of Learning
Express Supported Mode
6 Days of Supported Training.
Independent Mode
Self-paced study over 90 days per Level.
We have listed briefly our most frequently asked questions here.
Feel free to get in touch via live chat or give us a call if you have other questions.
When will the next intake start?
We have just one intake per year for this course. Kindly register your interest in order to be advised of the next intake.
How does the course work?
Everything is very similar to our regular online Psychometric Assessment at Work Course. However, instead of having a deadline of 90 days to complete each of the 3 course levels, you will complete 1-2 Modules per week with a short break between each Level, and the course will continue over the period of time noted in the course timetable (usually takes around 5 months to complete the entire course).
You will watch the videos required for a particular week and participate in forums with your co-students, as well as complete short quizzes (which the system will score immediately) and answer questions in your workbook. Provided students have engaged as expected in the forums, the course director will meet you at weekly webinars to discuss the forum questions and practice the knowledge learned in small virtual rooms.
At the end of each Level, you submit your workbook and practical assignments (video-recorded) and we will mark these prior to your next course Level. At the end of the entire course, successful students will be recommended to the BPS for all 3 Levels of the BPS Psychometrics Accreditation, will be invoiced by the BPS for certification, and to go on the Register of Qualifications in Test Use (RQTU). Students may also apply to the EFPA for an additional certificate in psychometrics. Kindly view the regular course page for fuller details and entire course syllabus.
Do I need to be available at specific times?
It is highly advisable that you are available for the weekly webinars because you will interact with others and practice new skills. The webinar day and time stays constant throughout the course, so you will be able to plan accordingly. Outside of that, you just need to manage your time to ensure you meet the weekly deadlines (videos, quiz, forum participation, workbook entries). In the event that you have an unforeseen issue and are not able to attend the webinar live, you may refer to the webinar recording which is posted within 24 hours. However, this should happen no more than once per course Level in order not to inconvenience other students who may have been assigned to work with you in virtual rooms.
What do I need to have to ensure I can complete the course?
You will need a reasonable speed internet connection and a laptop or PC for accessing the course. You can also access the course via a mobile app and this is fine for viewing videos and posting to forums, but we recommend you complete course quizzes on a larger screen. You will see a webcam and microphone for the Live webinars during the course.
What if I cannot keep up with the deadlines?
If you are unable to meet the deadline during a week of the course, you may simply catch up the following week but you will fall slightly behind and not benefit from real-time discussions. If you fall behind by two weeks and are unable to take immediate action to catch up, we may recommend that you move to our Independent Mode course.
Are there any other fees to pay?
1. All students need to pay our course fee.
2. There is an option (for an additional fee) for us to send paper-based materials to you for 2 of the assessments which you will undertake. However, you can easily prepare these materials yourself and so most students do not add this option.
3. The course fee includes ONE time marking of your workbook for each Level. Where workbooks do not meet the standard and we need to remark them, we may apply charges for this. Where the amount of remarking is minimal, we do not charge provided the work is returned promptly.
4. After you graduate, you will need to pay the BPS in order to be entered onto the Register of Qualifications in Test Use (RQTU) and receive the BPS Psychometrics Accreditation.
Are there any refunds?
Sorry, like most online training providers we do not offer refunds. We are happy to try to offer advice if you are facing difficulties, or move you to the Independent Mode course if you feel that is better for you.
Video Testimonals for our BPS Psychometrics Accreditation
Why did you undertake the BPS Test User Course?
How was the overall Psychometrics course?
Have you received your British Psychological Society certificate?
Previous BPS Level 1 & 2 RQTU Course Participant's Feedback
"Very clear teaching from Dr Graham Tyler. Helped me to understand the process of psychometric assessments as compared to previous learning. Clear feedback and constructive comments provided enhanced my learning."
Gifford Chan
Senior Clinical Psychologist
MINDEF (Singapore)
"Well structured course run by truly competent Dr. Graham Tyler!"
Nakiran
Defence Psychologist
"Lecturer was very detailed and professional in conducting the training! Besides providing comprehensive content, there were practical sessions and discussions to stimulate in-depth thinking. Very useful course indeed!"
Tay Say Hoon
Fleet Psychologist
"Appreciate the rigour and high standards set by the course and assessor, which is important to ensure effective knowledge transfer and application."
Aaron Chan
Civil Servant
MINDEF (Singapore)
"Course was well structured to develop competent standards for assessment and interpretation."
Tay Hwei Chin
Psychologist
MINDEF (Singapore)
"The course was indeed an eye opener for me. There's so much to learn and I must add that Dr. Graham is indeed excellent. He is very concerned and helpful, ensuring high standards of understanding, even if he has to spend extra time and effort. Indeed, fortunate to have attended."
Madhu Sharma
Independent Consultant & Trainer
(India)
"Simply impressive! You made a difficult subject-matter easy to understand!. "
Lin S Natividad
Sr. HR Officer
Private Company (Philippines)
"Intensive and Graham did his level best to make complex things reachable and understandable."
David E White
Managing Partner
White & White Associates Ltd. (Mauritius)
"This course was conducted at very high standards. The expectations from the delegates are high, but the instructor displayed the same high level of professionalism."
Koh Chee Siang
Defence Psychologist
MINDEF (Singapore)
"Finally understood how the different reliability and validity coefficients provide support to the effectiveness of psychometric tests."
Serene
Psychologist
Singapore Armed Forces
"Demanding, yet beneficial to work and understanding of psychometric assessment."
Goh Kang Wei
Defence Psychologist
MINDEF (Singapore)
"I think Dr. Graham Tyler is a fantastic tutor who made the course worth attending."
Mala S.
Counsellor
Insync Counselling Services (Singapore)
"I felt entirely relaxed, as a result I was able to ask lots of questions to further my understanding. The teaching was very clear!"
Nadia Nembhard-Hunt
Exceptional Learner Teacher
NIST International School (Thailand)
"Very beneficial for my work. Trainer is great. Thanks."
Jasmine
Psychological Researcher
Ministry of Education (Singapore)
"This inspired me through a lot of discussions on top of the very informative course content."
Monica Tang
Training Officer
Wharf T&T (Hong Kong)
"Truly enjoyed the course – though exhausting, Dr. Tyler made it a great learning experience."
Eugene Tay
Psychologist
PsychHealth Practice (Singapore)
"The length of the course is highly suitable for working professionals and all topics have been adequately and comprehensively covered."
Lau I-Shan
HR Executive
Ministry of Home Affairs (Singapore)
"Comprehensive subject matter covered in a professional manner, whilst at the same time made as enjoyable as possible when covering topics that I found at times, complex."
Alison
Cogmed Coordinator
Blurton FDC (Hong Kong)
"The activities and exercises in the course are very helpful in the learning and applicable to my work!"
Teh Ji-Lian
Assistant Manager
Deloitte Consulting (Malaysia)
"Have a good understanding over psychometric Test."
Tsang Cheuk Kuen
Student (Hong Kong)
"Gives me the confidence and competence to do my psychometric consulting work better."
Ray Phoon
Sales Psychologist & Coach
Powerup Success Group (Malaysia)
"One of those rare courses I have attended which adds a lot of value on the subject."
Sonal Satelkar
Program Head
Kohinoor College of Paramedical Sciences (India)
"The course is very useful for I/O Psychologists. Graham Tyler is knowledgeable beyond the scope of Level 1 & 2 and it certainly enriches the course."
Foo Wei Jie
Psychologist
MINDEF
"It's worth the money you pay for. It's very useful."
Sam B Roberts
Regional HR Manager
The I.S Dept. Pte. Ltd. (Singapore)
"Course was excellent in pushing through the details of professional application of psychological principles to workplace settings."
Delwyn Goh
MINDEF (Singapore)
"Rigorous training to develop competence at Level 2."
Sarah Ong
MINDEF (Singapore)
"Challenging – Have a much greater understanding of psych testing!"
J Sellar
Consultant
J. Sellar Services (Hong Kong)
"Completely relevant for any organisation doing assessment and selection."
Thevaki
Defence Executive
MINDEF (Singapore)
"The training is very comprehensive and covers in depth area."
Raja Nor Dianna
Asst. Vice President
Khazanah Nasional Berhad (Malaysia)
"A good training for those who are interested in knowing how to interpret scores."
Rokiah Bany
Talent Management Specialist
McDermott Asia Pacific (Singapore)
"The course work was intense but it was very worthwhile."
Poh Li Li
Principal Psychologist
Central Narcotics Bureau (Singapore)
"Level A: Very practical and logical. Also relevant and provides confidence in using psychometric assessments straight after."
Amit Puri
Managing Consultant
Sandbox Advisors (Singapore)
"Level B: Practical and effective as was Level A."
Amit Puri
Managing Consultant
Sandbox Advisors (Singapore)
"The course will surely help those personnel who are involved in the selection process as well as those staff who would like to determine potential of individuals for developmental purposes."
Junby Layaoen
Senior Supervisor Qatari Development
ORYX GTL Ltd. (Qatar)
"The course was helpful to my understanding of the statistical basis underlying psychometric tests and as well as some of the psychometric criteria and properties to watch out for when purchasing tests. These were some areas which I found to be useful above and beyond the basic psychometric theories, partly due to having the information delivered in layman language which makes it less daunting for individuals not trained in psychology to learn."
Lai Wei Wei
Consultant (Psychologist)
Civil Service College (Singapore)
"We have attended other psychometric test courses since the PsyAsia one. Having attended these, we know how thorough and exceptional the PsyAsia training was."
Student Affairs Officer
Institute of Vocational Education (Hong Kong)
"Well covered in terms of breadth & depth. Sufficient exercises and course work to reinforce understanding."
Danny
Consultant (Leadership Consulting)
Hewitt Associates (Malaysia)
"The high level of rigour and standards adhered to in the course makes the resulting certificate very much worthwhile. "
Keith Qian
Psychological Researcher
Ministry of Education (Singapore)
"Very informative and excellent presentation by tutor."
Theseus Leung
Senior Counsellor
City University of Hong Kong
"Provided excellent knowledge, also very practical and good sharing among participants. "
Tsui Po Yung
Senior Instructor
Chinese University of Hong Kong
"I very much respect the professionalism of Graham, Psyasia and BPS's high standards. great topics, worth the hard work, now i feel very confident in advising our clients in the selection and use of psychometric tests for assessment purposes"
Justine Guo
Talent and Organization Consultant
Hewitt Associates (China)
"The right course for the qualification and licence"
Sandhiya Rani
Consultant Psychologist
Synergy Maritime (India)
"It's the great course for evaluating assessment tools."
Kristy Qi
Leadership Consulting Leader
(Greater China)
"A high standard of training yet value for money."
Pang Peow Yeong
Psychologist
MINDEF (Singapore)
"It is a course worth attending for anyone who wants to know all about psychometric test administration and evaluation. It was well conceptualised and presented in an extremely professional way."
Austin Aloysius Tay
Business Development Director
Gurkha International Group (Hong Kong)
"Very useful for understanding about the essence of psychometric assessment and gaining competence in assessing psychometric tools."
Winnie Lee
Counselling Specialist
The Hong Kong Polytechnic University
"The course was well orchestrated by Dr. Graham Tyler."
Arati
Psychologist
DISHA Unique Psychological Consultancy (India)
"A very intensive but insightful course …"
Sarah Kwok
Strategic Resourcing & Development Manager
Cathay Pacific Airways Limited (Hong Kong)
"Very good and relevant especially in my line of leadership assessment and development."
Kathleen
Consultant
Hewitt Associates (Malaysia)
"Anyone who is currently using psychometric tests or would like to use psychometric tests in the future must attend. Overall, very fruitful and stimulating."
Yoki
Student Counsellor
Vocational Training Council (Hong Kong)
"Well organised course. Although it is intensive and demanding, it is important to ensure the quality of the trained professional"
Eric Chan
Student Affairs Officer
Vocational Training Council (Hong Kong)
"A very rigourous but insightful time spent. Worth the 6 days!"
Praise Mok
OD Manager
Save the Children Singapore
"It's excellent! High standard; answers all of my questions and also very relevant."
Sylvina Savitri
Junior Partner
EXPERD Consultant (Indonesia)
"It is high standard, tough but fun!"
Josephine Goh
HR Manager
Marsh & McClennan (Singapore)
"Graham is a clear and knowledgeable instructor. The course is well planned and delivered."
Jaime
Project Manager
Save the Children Singapore
"A useful course to gain a more in-depth understanding of psychometrics in applied settings."
Ho Hui Fen
Psychologist
Singapore Police Force
"A very thorough course on psychometric testing covered in 6 days."
Jovita Tambayong
Project Manager
Save the Children Singapore
"It is an intensive course of high quality standards."
Shi Min
Psychologist
Civil Service College (Singapore)
"Comprehensive content. Rigourous standards.
Daryl Wong
(Singapore)
"Hard work required, but well worth the effort."
Kenneth Lim
Psychologist
MINDEF (Singapore)
"It gives me a fuller understanding of comparing test scores. The feedback session was useful."
Mel
Counselor/Educational Psychologist
Ministry of Education (Singapore)
"I appreciate the high standards of training in the Level A & B course."
Cynthia Chan
Regional Manager
(Hong Kong)
"Rigorous and in-depth. Worthwhile even for psychologists who have experience."
Dorothy Teo
Psychologist
MINDEF (Singapore)
"Teacher is patient to teach us and willing to teach us many times in certain aspects."
Quin Sin
Teaching Associate
VTC (Hong Kong)
"It's the real deal!"
Melvin
Life & Executive Coach
(Singapore)
"Intensive, Informative, Life-changing, Brilliant."
Sam Mothibi
General Manager
Exelco Nv. (Botswana)
"Although rigorous and intensive, the course has practical application at the workplace."
Lin Shiyin
Psychologist
MINDEF (Singapore)
"Enriching."
Ng Hui Qun
Psychologist
MINDEF (Singapore)
"Dig into the content and ask "why"; you will learn more!"
Yao Yu
Associate I/O Psychologist
FedEx (China)
"A very intensive course but very practical and hands-on. The facilitator worked very hard to make content applicable to all participants despite our diverse backgrounds."
Kathleen
(Singapore)
"Excellent and systematic approach to a practical subject."
Mario
Lecturer
Nanyang Polytechnic (Singapore)
"I found it useful and it enhanced my knowledge of psychometric testing and empowered me to integrate psychometrics into my job function."
T. Naicker
OD Specialist
Orynx GTL (Qatar)
"The course was delivered to a very high professional standard."
Bernard Cheung
Hong Kong
"Very enriching. Learned a lot on the course."
Hemlata
(India)
"The course is very helpful to make you understand about the basic technical part of psychometric tests."
Rini Adhi A.
Tools & Method Analyst
PT Astra International (Indonesia)
Anonymous Reviews
"A very enriching course that was delivered by a very experienced trainer"

Anonymous
(Singapore)
"The practical work of administering the assessment tool and feedback to the peers help consolidate the learning points from the course and enables me to put knowledge into action."
Anonymous
(Singapore)
"Provides a lot of knowledge, and dos and don'ts for assessment and feedback. Very practical and applicable to work."
Anonymous
(Singapore)
"The course is very informative and the hands-on approach in terms of administering the test and writing the report is very useful and relevant."
Anonymous
(Singapore)
"A+ Instruction on a well structured course. A must for any consultant in the recruitment/search industry!"
Anonymous
(Singapore)
"A comprehensive understanding of psychometric issues in assessments. "
Anonymous
(Singapore)
"This course not only makes you aware of Psychometric Testing but also establishes a high standard in its practice."
Anonymous
(Singapore)
"Excellently conducted. Concepts and principles presented clearly "
Anonymous
(Singapore)
"Insightful knowledge and highly relevant & practical exposure for the real world application."
Anonymous
(Singapore)
"I learnt a lot of practical skills to do career counselling."
Anonymous, Lecturer
VTC (Hong Kong)
"Rational-based; can help you understand different kinds of psychometric tools and how to check their reliability and validity."
Anonymous, Student Counsellor
VTC (Hong Kong)
"I learned a lot from this course which makes me feel comfortable to discuss with my clients."
Anonymous, Consultant
Hewitt Associates (Shanghai)
"Extremely practical, useful course. Great mix of theoretical information and applying its use."
Anonymous, Managing Director
Private Company (Singapore)
"It is a very high standard training course"
Anonymous
(Hong Kong)
Ready to get started on your BPS Psychometrics Accreditation?
Fees & Registration
Fees & Registration for our 2024 intake will be linked here once dates have been announced in 2024. Please register your interest here.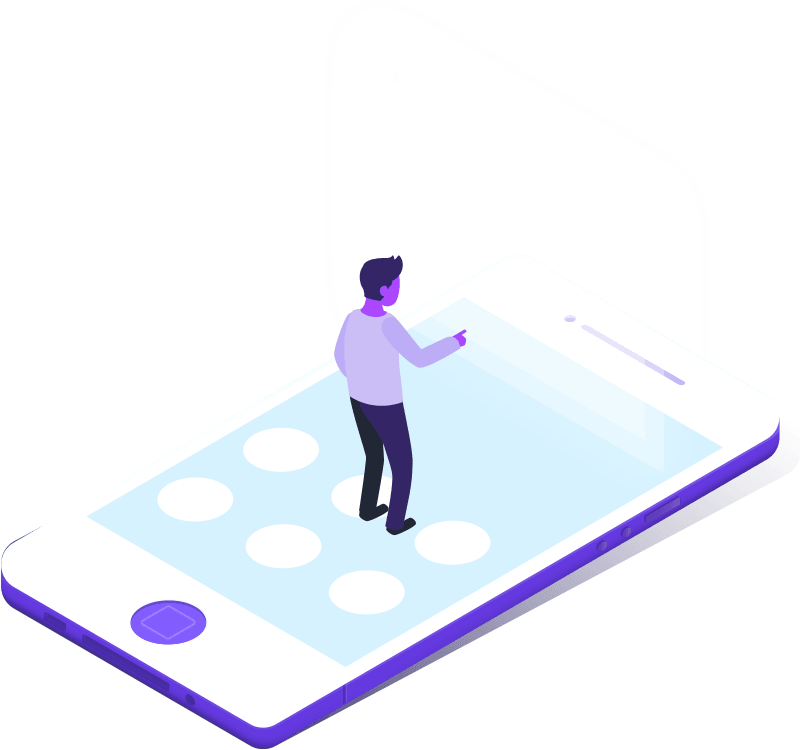 Supported Mode not for you?
For those who are unable to work to weekly deadlines over a period of time, this mode of our Psychometric Assessment at Work Course is not likely to benefit you! In that case, we recommend our Independent Mode course where you will have 90 days to complete each level of the course. If you're not sure which mode suits you, you may enroll in the Supported Mode and then downgrade to the Independent Mode at any time. However, note that we do not provide any refunds for those who downgrade.