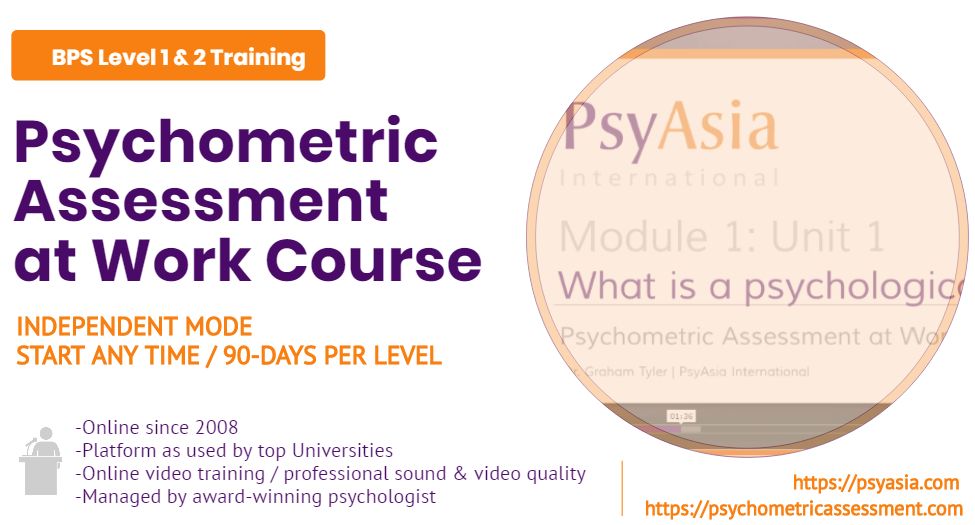 BPS Level 1 Assistant Test User Online Training
BPS Level 1 Assistant Test User Training from our Psychometric Assessment at Work Course is the introductory Level for training in psychometric test administration relevant to workplace assessment. This course can be completed fully online and leads to an internationally recognised certification from the British Psychological Society.
Online Psychometric Test Administration Course / BPS Level 1 Online Training
Our online Psychometric Test Administration Course provides students with the ability to understand and competently practice the administration of ability, aptitude and personality assessments in organisational settings.  Successful completion of this course and the course assessments makes students eligible for the BPS Level 1 Assistant Test User Qualification. If you wish to additionally interpret test results and feed back those results in a meaningful way to candidates and decision-makers, you will need to complete BPS Level 2 Ability Test User Training and BPS Level 2 Personality Test User Training after completing this first Level course.
Topics covered
What is Occupational Testing
Categories of Psychometric Tests
Types of Maximum and Typical Performance Tests
Preparation for Managed Test Administration
Invitation Letters
Introducing & Running the Test Session
Test Logs
Modes of Test Administration
Managing Problems with Remote Testing
Candidates with Disabilities
Direct & Indirect Discrimination
The Four-Fifth's Rule
Justifiable Adverse Impact
UK Data Protection Act
Hong Kong Personal Data Ordinance
Singapore Personal Data Protection Act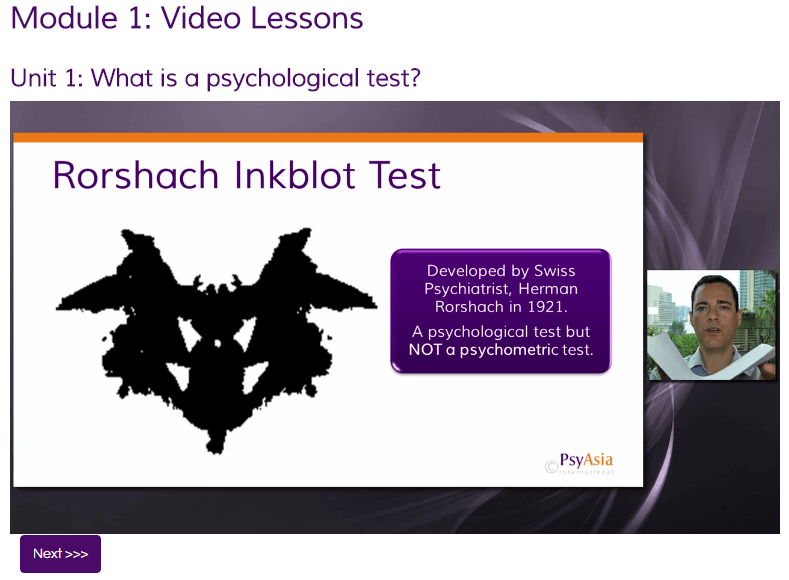 Why the need for this psychometric course?
We know from research that well designed and reputable psychometric tests are incredibly useful in candidate selection and employee development as well as in team-building, coaching and career development. However, in order to be useful such tests need to be administered properly.  Deviation from standardised test administration, errors in scoring, improper storage or use of test data or simply not giving respondents the information they need can all lead to a reduction in test reliability and validity. This effectively makes the test useless and can have huge negative impacts upon you, your company and the respondent.  The content from this course prevents these issues by teaching you how to effectively prepare for and administer psychometric assessments.
What about the time commitment?
The course is divided into 4 Modules and the video play times are listed below, along with estimated time to complete assessments. Keep in mind that everybody is different and some will pause the video and take notes, whilst others will watch a video outright. You may need substantially more time than noted below if you prefer to take your time learning. Those on our Independent Mode of Learning will have 90-days to complete this Level of the course, whilst those in our Supported Intakes will have 4 weeks of training, plus 2 further weeks to finalise assessments.
-Module 1: 90 mins.
-Module 2: 125 mins.
-Module 3: 106 mins.
-Module 4: 30 mins.
Total = Approximately 6 hours of video
Plus assessments (workbook and practicals): 6 hours
TOTAL COMMITMENT – APPROX. 12-15 HOURS
Will the course work on my system?
Yes!  We use the same platform used by the world's top Universities and our videos stream from a world renowned content partner. You should be able to access everything on your PC, Mac, tablet and smartphone devices. When completing quizzes we recommend doing so on a full screen device for obvious reasons.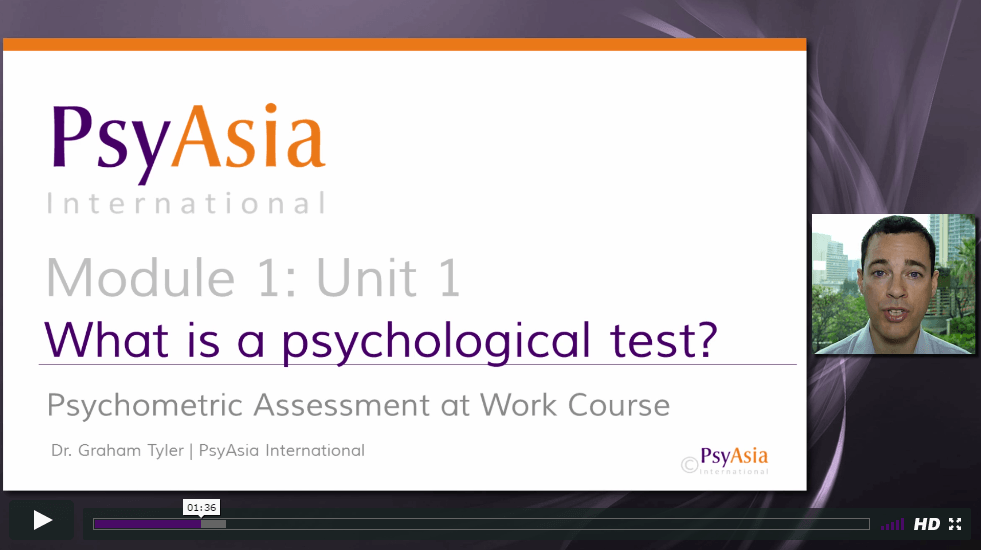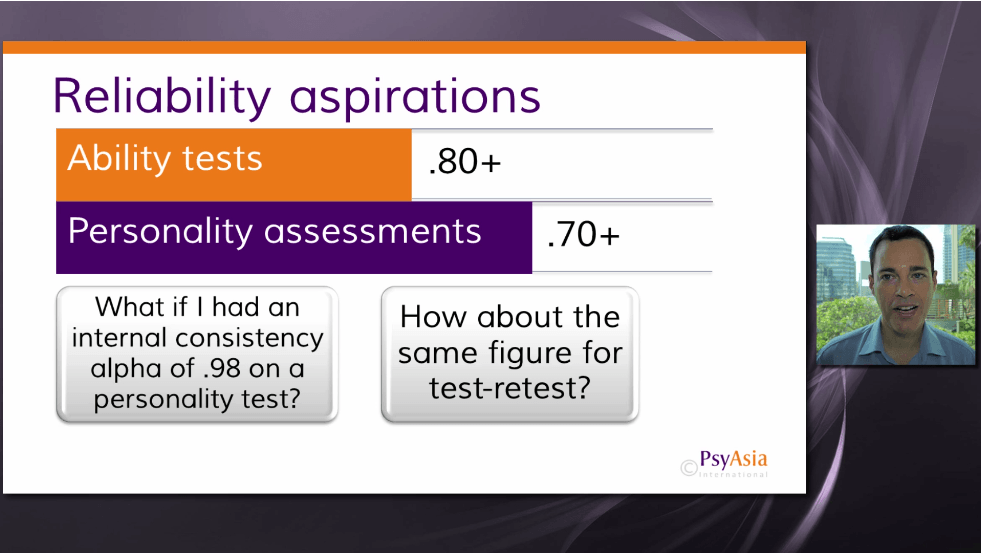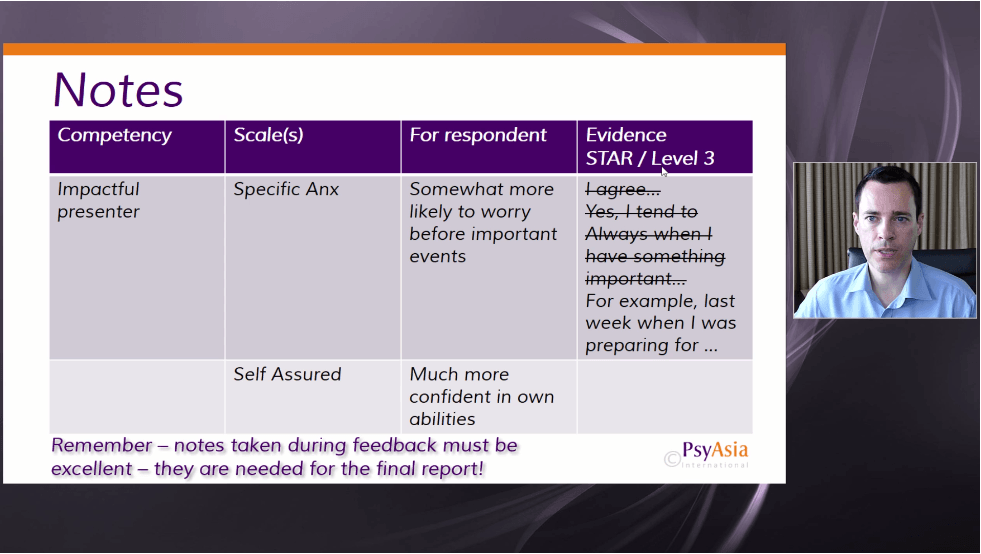 What Students Say About Our BPS Level 1 Online Psychometrics Training
Don't just take it from us, let our valued students do the talking!
Training was informative, sleek and world class- just the right amount of knowledge that one needs to be able to digest.
"The Online Psychometric Test Administration Course is very relevant to all recruiters who are involved in test administration. The speaker is very knowledgeable and you will learn a lot from him. Very approachable…its fun."
The Online Training for Test Administration was an ideal solution for me. The program was delivered by a very experienced facilitator, the content was substantial and doing it online allowed us to attend the course in an environment that we are already comfortable in. I would highly recommend this course to management who are looking for a unique yet effective training methodology.
Beautiful Presentations
Quality, HD course slides fully narrated by our award-winning Chartered Psychologist using professional recording equipment. Quizzes at the end of each Module assess your learning.
Virtual Whiteboard
Our virtual whiteboard feature introduced in Level 2 ensures students grasp topics at the same level as those in the traditional classroom. Watch the videos over and over until you are happy with your understanding.
Student Forum
For those on our Supported Intake Mode of Learning, we offer student forums in each Module where students can discuss the course topics. Our psychologist facilitator will monitor these forums and add his input and from time-to-time, he will record RealTime videos and arrange Webinars which elaborate on questions and points being made in the forums.