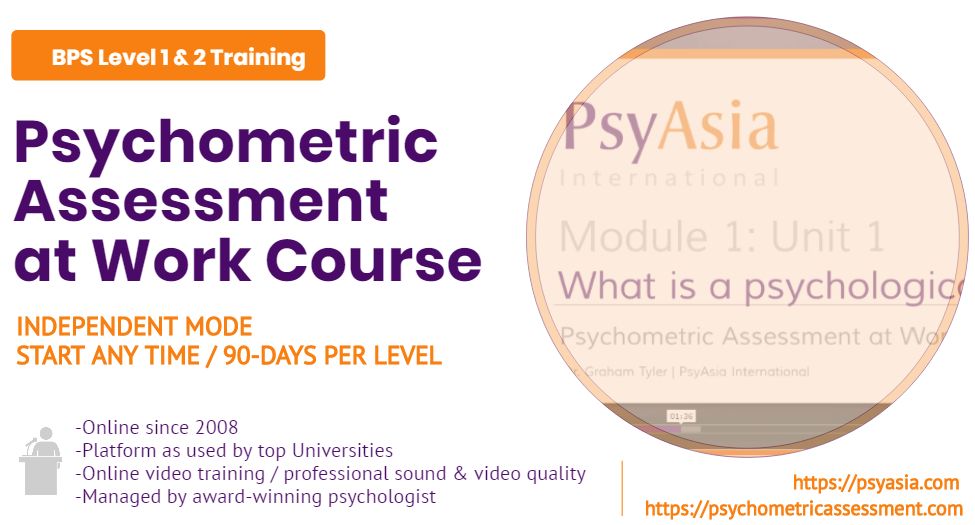 BPS Level 2 Personality Test User Online Training
BPS Level 2 Personality Test User Training from our Psychometric Assessment at Work Course covers subjects important in the competent understanding and practical use of personality assessments at work. Successful students will be able to apply to the British Psychological Society for the Level 2 Personality Test User Qualification. Now, being in possession of the Level 1, Level 2 Ability and Level 2 Personality Test User Qualifications, you will also become eligible for the Euro Test User Certificate of the European Federation of Psychologists' Associations (EFPA).
Psychometric Assessment at Work Course – BPS Level 2 Personality Test User
With more than 20 years of experience in teaching this course face-to-face in many different parts of the world from the UK to the UAE, Australia, Singapore, Hong Kong, China, Malaysia and more, our award-winning Chartered Psychologist Facilitator is pleased to be able to offer the same course online.  Over the years of offering this course, we have been motivated by the kind feedback received from our students and firmly believe we have a great option for quality training that highlights our passion for the competent use of psychometric assessments.
This course is for those who have already completed both the BPS Level 1 Assistant Test User training and the BPS Level 2 Ability Test User training and who wish to be able to interpret and provide useful feedback about personality assessment results to respondents and decision-makers. Upon successful completion of the course, students become eligible for the BPS Level 2 Personality Test User Qualification as well as the EFPA Euro Test User Certification.
Topics covered
VALIDITY ISSUES SPECIFIC TO PERSONALITY ASSESSMENTS
Validity Issues for Personality Questionnaires
Statistical Analysis versus Pragmatic Value
Chance Relationships and 'Going Fishing'
Multiple Regression for Personality Questionnaires
Correction for Shrinkage
APPROACHES TO ASSESSING PERSONALITY
Developing Questionnaires: Rational, Empirical and Theoretical Approaches
Methods of Personality and Performance Assessment
Response Style and Distortion in Personality Questionnaires
Forms of distortion
Minimising and Controlling Distortion
Transparent versus Opaque Instruments
Ipsative versus Normative Scaling
Spurious Validity
Pseudo-Scientific Measures of Personality
PERSONALITY ASSESSMENT INTERPRETATION
Learning appropriate to the vast majority of personality assessments
Specific focus on the Identity Self-Perception Questionnaire
Consideration of multiple other personality assessments
PERSONALITY ASSESSMENT FEEDBACK
Introduction to Feedback
Purposes of Feedback
Preparation for Feedback
Feedback Skills
The Feedback Interview Structure
Discussing Results – Personality Assessments
PERSONALITY ASSESSMENT WRITTEN REPORTS
The Interim Report
The Integrated Report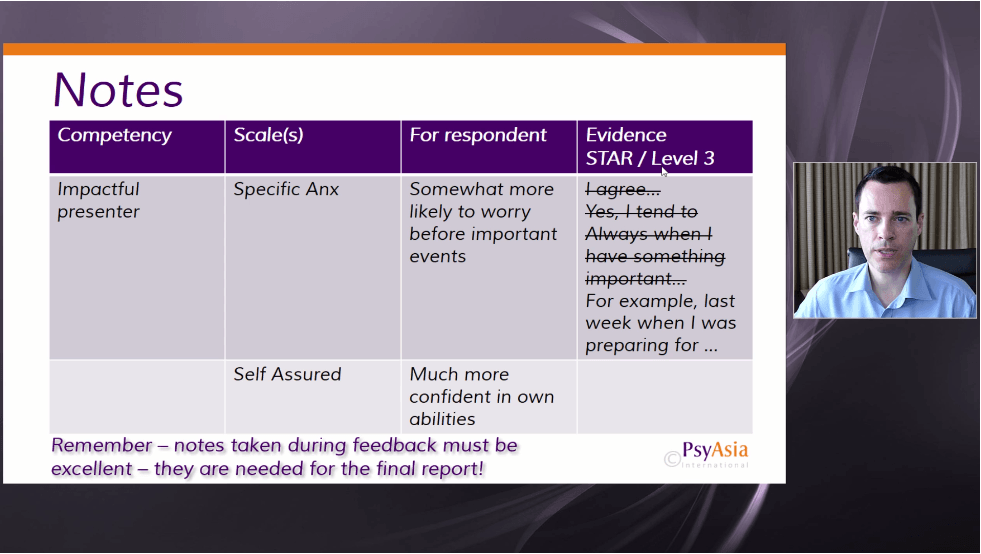 Why the need for this course?
There are a number of test publishers who are mainly concerned with getting paid and less concerned about their clients being appropriately trained. Likewise, a large number of test users either see training as a troublesome obstacle to test access or simply don't understand the need to undergo training.
Psychometric tests are useful tools – they provide a lot of information about an individual in a short period of time and present the information in a structured manner. This makes the entire process more scientific. However, if the people using tests and making decisions on the basis of test results do not fully understand the theory behind testing, how different scoring systems work, how much confidence they can have in test scores, how to choose the best psychometric tests, how to ensure decision-makers are aware of the pros and cons of testing and so on, the benefits of using psychometric tests can be totally negated.
This course therefore ensures that those using psychometric personality assessments can choose the best tools for their purpose in the first place, can fully understand issues of test reliability, validity and test score confidence, know what is and what is not assessed and predicted by these tests and know how to professionally and competently feedback and use the information contained in personality assessment reports.
Don't be like your competitors or colleagues who are using personality assessments without training. They may be making incorrect decisions about people and not even realise it. This will create problems for the organisation and even legally. Use personality assessments confidently and competently and prove your competence with this internationally recognised qualification.
What about the time commitment?
The course is divided into 5 Modules and the video play times are listed below, along with estimated time to complete assessments. Keep in mind that everybody is different and some will pause the video and take notes, whilst others will watch a video outright. You may need substantially more time than noted below if you prefer to take your time learning. Those on our Independent Mode of Learning will have 90-days to complete this Level of the course, whilst those in our Supported Intakes will have 5 weeks of training plus 2 further weeks to finalise assessments. Once work has been marked, there is one further assessment that needs to be carried out and all students are given 30 days for that.
-Module 1: 178 mins.
-Module 2: 77 mins.
-Module 3: 148 mins.
-Module 4: 110 mins.
-Module 5: 28 mins.
Total = Approximately 9 hours of video
Plus assessments (workbook and practicals): 21 hours
TOTAL COMMITMENT – APPROX. 30-35 HOURS
Will the course work on my system?
Yes!  We use the same platform used by the world's top Universities and our videos stream from a world renowned content partner. You should be able to access everything on your PC, Mac, tablet and smartphone devices. When completing quizzes we recommend doing so on a full screen device for obvious reasons.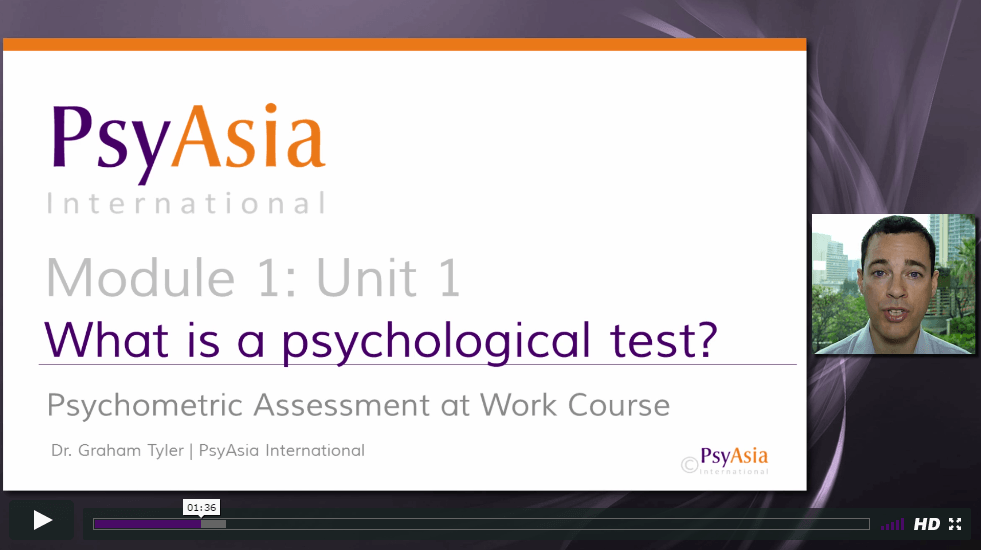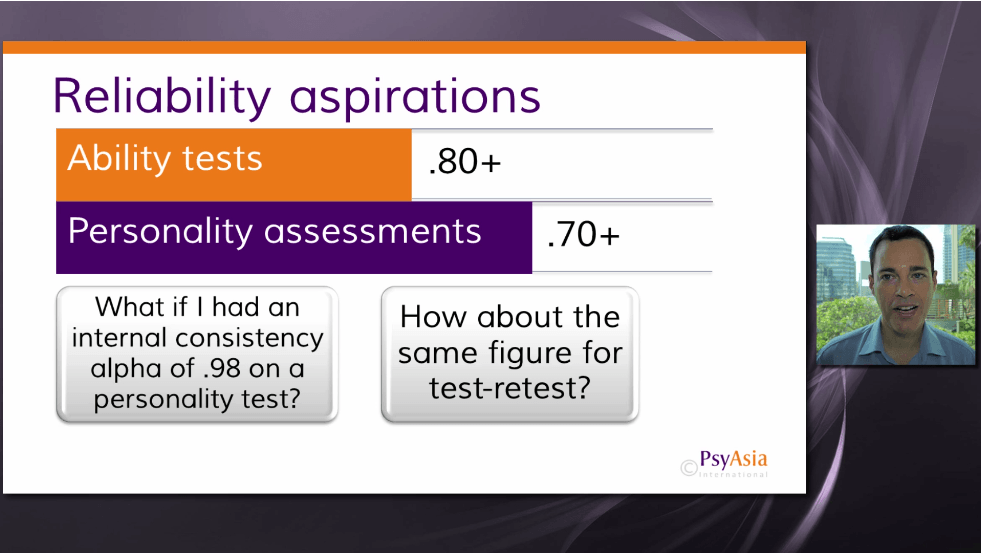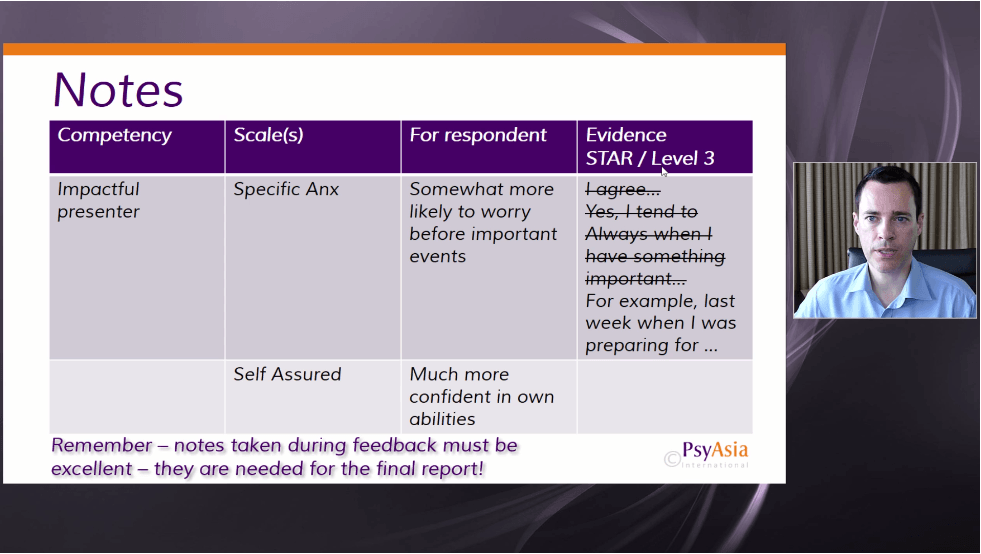 What Our Students Say About Our BPS Level 1 & 2 Training
Don't just take it from us, let our valued students do the talking!
The course was indeed an eye opener for me. There's so much to learn and I must add that Dr. Graham is indeed excellent. He is very concerned and helpful, ensuring high standards of understanding, even if he has to spend extra time and effort. Indeed, fortunate to have attended.
Intensive, and Graham did his level best to make complex things reachable and understandable.
Very beneficial for my work. Trainer is great. Thanks.
Course was excellent in pushing through the details of professional application of psychological principles to workplace settings.
Very useful for understanding about the essence of psychometric assessment and gaining competence in assessing psychometric tools.
Intensive, Informative, Life-changing, Brilliant.
This inspired me through a lot of discussions on top of the very informative course content.
I think Dr. Graham Tyler is a fantastic tutor who made the course worth attending.
I found it useful and it enhanced my knowledge of psychometric testing and empowered me to integrate psychometrics into my job function.
Graham is a clear and knowledgeable instructor. The course is well planned and delivered.
Very good and relevant especially in my line of leadership assessment and development.
Comprehensive subject matter covered in a professional manner, whilst at the same time made as enjoyable as possible …
I very much respect the professionalism of Graham…and BPS's high standards… Great topics, worth the hard work, now I feel very confident in advising our clients in the selection and use of psychometric tests for assessment purposes.
Beautiful Presentations
Quality, HD course slides fully narrated by our award-winning Chartered Psychologist using professional recording equipment. Quizzes at the end of each Module assess your learning.
Virtual Whiteboard
Our virtual whiteboard feature introduced in Level 2 ensures students grasp topics at the same level as those in the traditional classroom. Watch the videos over and over until you are happy with your understanding.
Student Forum
For those on our Supported Intake Mode of Learning, we offer student forums in each Module where students can discuss the course topics. Our psychologist facilitator will monitor these forums and add his input and from time-to-time, he will record RealTime videos and arrange Webinars which elaborate on questions and points being made in the forums.