Identity® Personality Assessment User Course Online Training
PsyAsia International's Online Identity® User Course enables you to use Identity® competently by dedicating approximately a weekend of your time (through 5.5 hours of video training, 9 quizzes and 1 final exam). The course is cost efficient and you are able to purchase Identity® credits within one business day of passing the final exam.
Course Details
Registration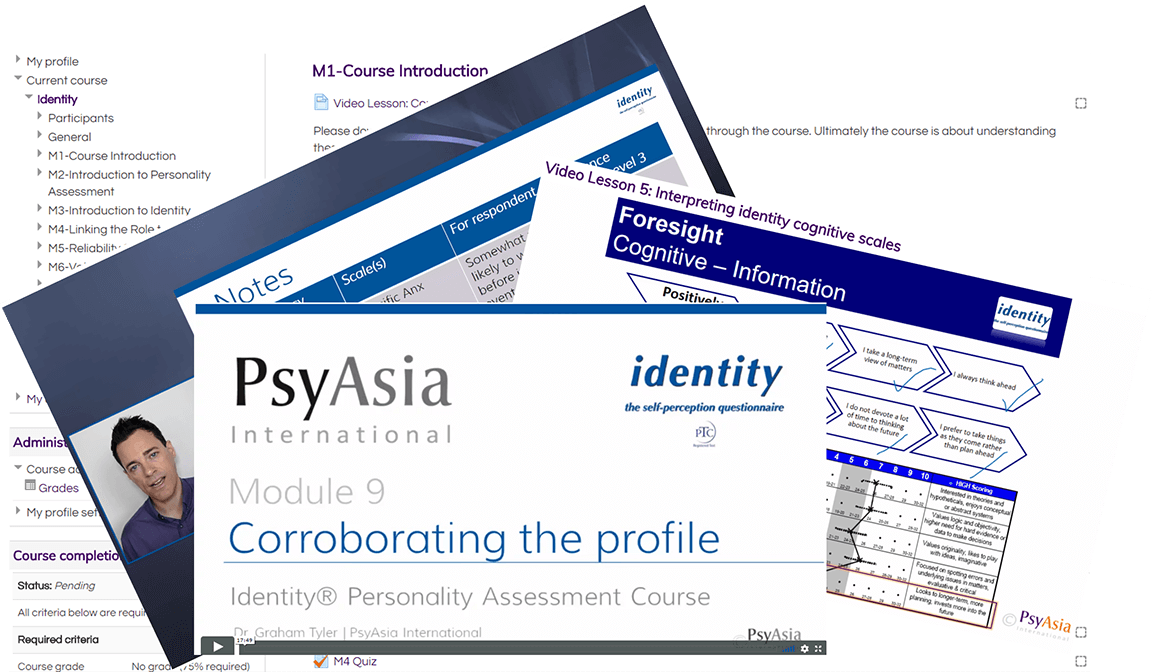 Identity® Personality Assessment Online User Training Course
This course is offered entirely online and has been produced with the aim of being possible for busy HR professionals to complete over a weekend. It is taught by way of high quality video lessons which include slides and trainer video. The trainer is multi-award-winning Registered Psychologist (Organisational Psychology & Clinical Neuropsychology) Dr. Graham Tyler, the instigator of the world's first Psychometrics MOOC.
 Topics covered
• Course Introduction
• Introduction to Personality Assessment
• Introduction to Identity®
• Linking the role to Identity®
• Reliability & Error in Psychometrics
• Validity in Psychometrics
• Understanding Identity® Scores
• Interpreting Identity®
• Corroborating the Identity® Profile with work evidence
• Using Identity® Ethically
What happens once I complete the Identity®course?
Once you have passed the final course exam, you will receive a PDF certificate from us within one business day and will then be able to order and use your own Identity® system. You may also request a hard copy certificate for an additional fee.
How much does the Identity® course cost and where can I register?
The fastest way to find out the current fees and promotions is to use the Live Chat icon on any page of our website, from where we can also answer any queries you may have. The course fee can also be found within our registration form. Registration can be completed online at the following link:
Why the need for this personality assessment course?
There are a number of test publishers who are mainly concerned with getting paid and less concerned about their clients being appropriately trained. Likewise, a large number of test users either see training as a troublesome obstacle to test access or simply don't understand the need to undergo training.
Personality Assessments such as Identity® are useful tools in the HR decision-making process, but can only be useful if used responsibly, ethically and knowledgeably. This means that all users of this assessment should undergo training. That said, HR and related professionals are busy people and find it difficult to attend competency training courses. With this in mind, we produced this Online Training for Identity®.
What about the time commitment?
The course is divided into 10 Modules and the approximate video play times are listed below. Keep in mind that everybody is different and some will pause the video and take notes, whilst others will watch a video outright.
-Module 1: 16 mins.
-Module 2: 22 mins.
-Module 3: 28 mins.
-Module 4: 26 mins.
-Module 5: 18 mins.
-Module 6: 18 mins.
-Module 7: 25 mins.
-Module 8: 148 mins.
-Module 9: 18 mins.
-Module 10: 18 mins.
Total = Approximately 5.5 hours of video
Plus assessments (9 short quizzes, 1 long quiz and 1 final exam): 2 hours
TOTAL COMMITMENT – APPROX. 7.5 HOURS
Live Online Courses
Kindly note that we also conduct this course as a Live Online Course. In this mode, we provide a timetable for watching the videos and then at frequent points we take our participants into our Live Online Event Room for discussions, analysis, Q&A and break-out room practice sessions. The psychologist-facilitator is on standby whilst participants watch videos and they are able to ask questions at any point. Our Live Identity Courses run over four sessions of 3 hours each. Timings may vary slightly depending on group needs during each intake.
Will the course work on my system?
Yes!  We use the same platform used by the world's top Universities and our videos stream from a world renowned content partner. You should be able to access everything on your PC, Mac, tablet and smartphone devices. When completing quizzes we recommend doing so on a full screen device for obvious reasons.