Supervisory & Team Leader Aptitude Tests
Online Psychometric Verbal and Numerical Aptitude Tests for Team Leader & Supervisor Recruitment and Development.


Supervisory and Team Leader Aptitudes
These tests assess the aptitude of employees or candidates for Supervisory and Team Leader positions and are suitable for both selection and development purposes. They best suit the grade of supervisor, team leader or any position involving the use or application of budgets, policies or moderately complex procedures within an operational setting.
 Sub tests and test timings

Numerical Reasoning Test for Supervisors and Team Leaders
A test using facts and figures, taken from the world of work, to assess a candidate's ability to interpret and evaluate numerical information from a series of tables and charts.
(30 minutes)

Verbal Reasoning Test for Supervisors and Team Leaders
A test to assess a candidate's ability to reason with written information drawn from the world of work.
(25 minutes)
In order to use our Aptitude Tests independently, you need to have a recognised certification in Aptitude Testing or the BPS Level 2 Ability Test User Qualification.
Alternatively, you may attend our Online Basic Psychometrics Course: Psychometrics for HR Decisions.
If you do not hold relevant qualifications and do not wish to undertake training, we can still assist by either giving you access to only text-based reports, or via our Psychologist-on-Call™ service wherein our psychologists will manage the process for you and then call you to explain all reports.
If you don't have a certification in aptitude tests, don't worry, our
psychologists
can handle the process for you. Let us know something about the job and its required competencies by way of a good job description and person specification. We will then be able to advise on the best assessments to use. You then simply send us the full names and email addresses of those to be tested and we will invite them via our system. Once they have completed the assessments, we will send you the reports and arrange a telephone or skype session to take you through the reports to ensure understanding and effective use.

Validate is our innovative checking process for aptitude tests completed remotely and without supervision. The use of unsupervised aptitude tests saves time because job applicants can complete assessments without having to come to your office. However, it is difficult to be entirely certain that the right person completed the assessment.  This is where Validate comes in. Once you are at the shortlisting stage and you are meeting candidates for interview, administer Validate to your candidate. It simply presents candidates with the 6 most difficult questions which they originally got corrected in their unsupervised aptitude test. If they get them correct again under supervision, there is nothing to worry about. If they do less well this time around, it suggests they may have had help the first time around.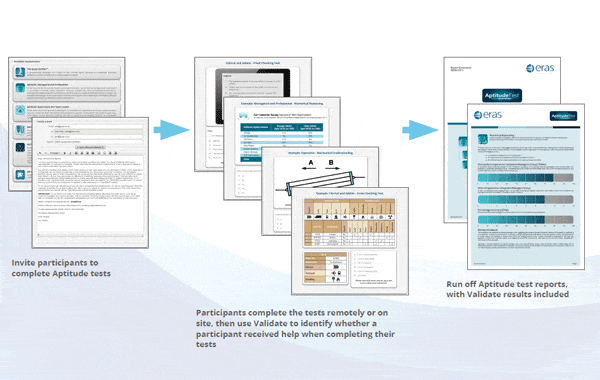 Psychometric Portal® Presentation