The Psychometric Portal®
An innovative Online Psychometric Testing system which enables the remote or supervised administration of Aptitude Tests, a Personality Assessment, a Job Analysis Questionnaire, 360 Performance Appraisal and a Culture & Engagement Survey. All supported by Registered Psychologists; the experts in psychometric testing at work!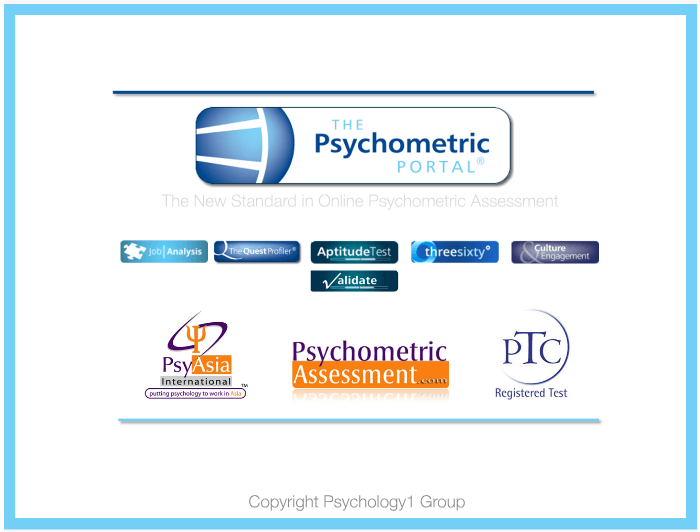 Cutting-edge Online Psychometric Assessments
The Psychometric Portal® comprises cutting-edge psychometric tests and technology in an intuitive, easy to use online system.
Supervised, Controlled and Open Modes of Administration
The Psychometric Portal® enables multiple modes of test administration. These each come with their own pros and cons and so being able to choose the most suitable is a great selling point for the Portal!
Support from Psychologists
The Psychometric Portal® was developed by Business Psychologists. In addition, our clients are always supported by Business Psychologists with extensive experience and expertise in psychometrics. We stand apart from our competitors who often lack any in-depth training in psychology or psychometrics and who may know very little about the difference between good and poor psychometric tests. Also, let's not forget our long-standing, legendary 3-hour (maximum) email response policy!
Access to your data
We have experience of working with test publishers who believe they have the right to limit what data clients can access. Having moved away from such publishers, we have ensured that with the Psychometric Portal®, our clients have access to their own data.
Great pricing
Reports from the Psychometric Portal are not only highly reliable and valid, but are also competitively priced. This assures clients of a superb return on their investment.
Time to change your psychometric test vendor?
Have you been working with a test publisher who charges huge fees and yet limits the data you can extract from your own paid-for online system? Do they insist that you upgrade your report type in order to be able to download data? Do they have an archaic system that is difficult to use, inflexible, unable to offer bulk uploading of candidates and more? Time to move on! Get your own system for a remarkable fee, with customization of your own logo and colours and more flexibility than you are used to now! All that along with our award-winning support!
View sample reports generated by the Psychometric Portal®

REQUEST A NO-OBLIGATION ONLINE DEMO.
Psychometric Portal Presentation