Psychometric Test & Job Interview by Psychologist
Our psychologist-on-call™ service enables recruiters worldwide to engage our Registered Psychologists when hiring.
Our Psychologist on Call™ Service
Large organizations throughout the world employ their own in-house Business Psychologists. They call upon these psychologists to assist in the design and development of the recruitment and selection process, among other roles.
Within the selection interview, the Business Psychologist is able to bring scientific tools and principles, as well as expertise in the application of ability and personality theory in the workplace. The end result is an enhanced ability to predict the likely performance of job applicants. Our Psychologist on Call™ service provides the same services as would typically be offered by in-house organizational psychologists to organizations who do not currently use these individuals or whose own psychologists are engaged in other tasks or where an external perspective is required.
State of the art interview system
We have invested in state-of-the-art facilities and we are able to present and explain the psychometric reports to the client or a full board of selectors via the Internet whilst conversing on the telephone or VOIP in real time no matter where in the world the client or the board/stakeholder is. Also note that with this facility, different board members/stakeholders may log in from different parts of the world at the same time. Hence, we are able to show the report, go through it and answer any questions with stakeholders perhaps logged in from Singapore, Hong Kong, Bombay, Sydney, New York and London at the same time. The only limitation then is the time differences! Also, if requested, we can run the candidate interview via this system and an unlimited number of people from the selection committee can log-in and listen to the interview and even ask their own questions. Those without Internet access simply call an international number (UK, USA, Australia, New Zealand etc.) and listen/ask questions by telephone.
The Psychologist on Call™ Process
Create Job / Role Profile
We assist in the creation of a job profile by examining the job description, competency profile and any other information that you may have about the job. We may ask you to undertake a job analysis questionnaire. Additionally, we consult international competency and behavioural indicator databases to provide us with a clear understanding of the job (as an additional consultancy service we can also run a job analysis for you).
Psychometric Testing
Based on your role requirements, we recommend the most suitable psychometric tests and upon your approval we invite your candidates to complete these assessments online. Once completed, we score the assessments and produce reports.
Interview Candidate(s)
With the role profile, job description, person specification and results from the psychometric assessments in hand, our experienced Registered Psychologists now interview your job applicants. We use mainly a technique called "Behaviour Based Interviewing" where we gather evidence to support or refute the notion that a particular candidate has the competencies and so on required to be successful in the role.  This technique has been shown through lots of research to be the most valid interviewing technique to predict work performance. (Note that not all clients want us to undertake this interview due to budget constraints. If this is the case, we move on to the final point below.)
Report and Feedback to Client
The final step is to send the psychometric assessment report(s) to our client by email a short time before we contact the client and provide a full feedback session. The objective is for the client/decision-maker to fully understand the reports and their limitations, along with the candidate(s)' likelihood of succeeding in the role given all the information to hand. We typically recommend assessing at least 3 or 4 candidates for any single position to make any comparison meaningful. Many of our clients ask us to undertake assessments of a much larger number of candidates however, so we have expertise of testing over 1000 individuals and short-listing these down to smaller numbers for final interview with the client.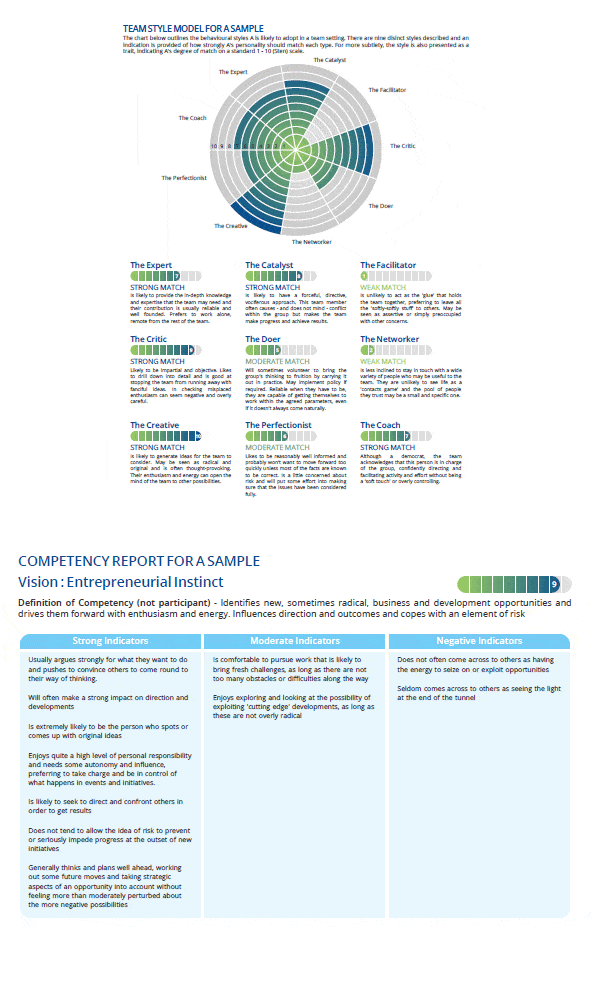 Psychologist Supervised Bureau Service
This service has been developed to bridge the gap between those clients who do not wish to use our full Psychologist on Call™ service and who are not appropriately qualified to use tests independently. We do strongly advise that clients undergo training in psychometric testing to assist in a full understanding of psychometrics and access to more thorough reports. However, where this is not immediately possible, our Psychologist Supervised Bureau Service is the answer. Clients simply need to provide us with detailed information about the job they are hiring for (including competencies required) and then we will recommend the most suitable assessments. Upon client approval, we will send invitations for candidates to complete the psychometric assessments online. Once completed, we will send limited, text-only reports to clients and follow these up with a brief call from a psychologist to ensure appropriate use of the results. Sending text-only reports (i.e., without numbers and graphics) is significantly less likely to lead to any error in interpretation given that the test results have already been pre-interpreted in the text.
Psychometric Test Bureau Service
In addition to our fully psychologist-managed Psychologist on Call™ service, we offer a Bureau Service. This is for those already trained and accredited in psychometric testing but who do not wish to use their own system for whatever reason. In this case, we add respondents on behalf of the client to our own psychometric test systems, manage the candidates and once tests have been completed, we send psychometric test reports to the qualified client.
Have your candidates Assessed & Interviewed by Psychologists?