Matching Personality to Job Competencies
Job Analysis & Job Match assist in scientifically matching candidate's personality traits to job requirements for selection.

The Challenge when using Psychometric Personality Assessments
Psychometric assessments of personality are useful tools in recruitment, selection and development, but they are only so when used properly. One challenge is that it is all too easy to have respondents complete personality assessments without really knowing what to do with their actual results. Sometimes decision-makers plan to simply use test results to confirm or refute gut feelings. This of course is not scientific and can lead to a number of HR problems (let alone legal ones). So, what is the answer to this challenge?  How can personality assessments such as the Quest Profiler® be used in a more scientific, responsible and fair manner?
The Scientific, Fair and Responsible Solution – Job Analysis with Job Match
Best practice in psychometrics tells us that in order to use personality assessments scientifically, we should first undertake a job analysis and be certain about the job competencies before we then move on to assess candidates. Make your assessment process as scientific as possible by undertaking a short, questionnaire-based job analysis before assessing the personality of your job applicants or current job incumbents. Our job analysis questionnaire will help you to consider and weight the most important personality, behavioural and competency-related components of successful individuals in the job under consideration. Following this, the Psychometric Portal® will compare your respondents' profiles derived from the Quest Profiler® with your Job Analysis derived Ideal Profile.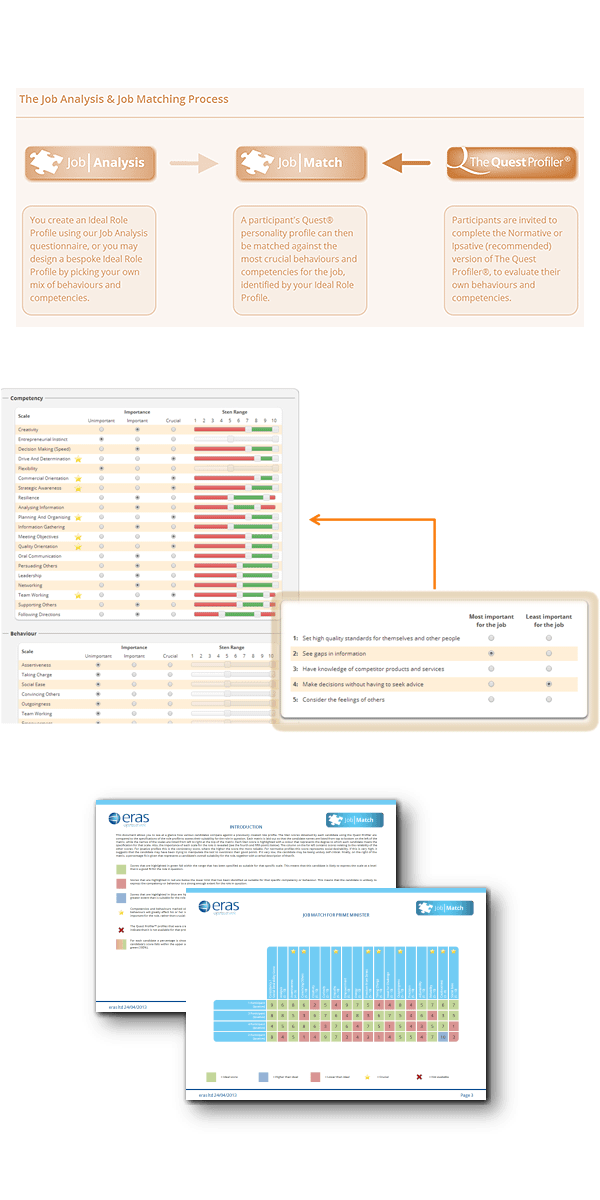 Weak

29.9%

29.9%

Moderate

49.8%

49.8%

Strong

19.8%

19.8%

Very Strong

0.5%

0.5%

Exceptional

0%

0%
Match Distribution For The Role
The distribution of matches to the left indicates how likely a participant is to match the competencies and behaviours identified for the role weakly, moderately, strongly, very strongly or exceptionally. For example, if 20% of participants are likely to match the role exceptionally, then approximately 1 in 5 candidates will be extremely suitable for the position. This serves as a check as to how stringent or lenient you have been in considering the job requirements and thus how likely to you are in reality to find candidates who match your requirements.
More details about Job Analysis and Job-Personality Match
If you don't have a certification in personality assessments, don't worry, our
psychologists
can handle the above process for you.  Once everything is completed, we will send you the reports and arrange a telephone or skype session to take you through the reports to ensure understanding and effective use.